About Us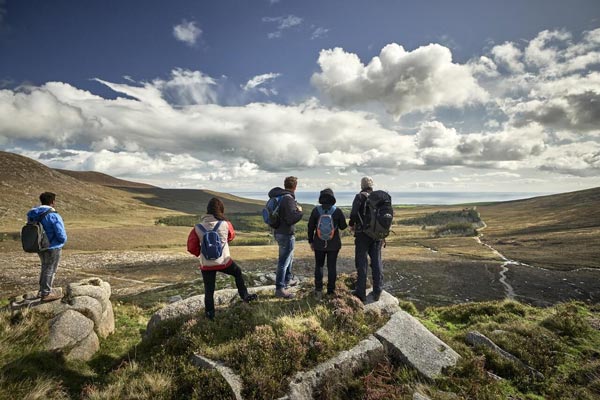 Learn about the era when Mourne granite was highly sought after and the mountains echoed with the sound of handpicks.
Watch as Peter shows you the tools and 'plug and feather' technique used to cut the stone, discover where it was sent, and hear about the men who built the 22-mile Mourne wall, constructed in 1904 - 1922 to define a catchment area for a local reservoir.
Listen to Peter's stories of the US military men who trained here before heading for the battlefields of the Second World War, and discover how the Mournes were also home to less respectable pursuits in times gone by.
See the Brandy Pad routes, which were used by local smugglers in the 18th and 19th centuries, and soak up the atmosphere in secret caves which came in handy for storing illicit brandy, silk, tea, tobacco and other contraband.
With so many tales to tell, it's clear to see why the Mournes are said to have been the inspiration for CS Lewis' mystical Chronicles of Narnia.
Towards the end of the tour comes a vista that – despite a day full to the brim with beautiful views - might just take your breath away. The scene overlooking the Ben Crom dam is, quite simply, spectacular. There couldn't be a more fitting finale to a day rich in sights, sounds, stories and the freshest of air. Even Peter, who viewed the Mournes as his playground in childhood, and has hiked this route many times over many years, never fails to be wowed by this scene.
It's an experience he says he will never tire of – and something you are unlikely to forget, either.
Walkthemournes.com is a local company who provide guided tours in the Mourne Mountains for individuals or groups.
We also provide Navigation and Mountain Skills Courses. If you would like to walk in other areas of Ireland or the UK we have experience organising and guiding trips to The Lake District, to Wales and also to Kerry.
Your mountain guide Peter Rafferty is a qualified Mountain Leader and member of the Mountain Training Association. The Mountain Leader Award allows the holder to lead people on any mountain in the UK and Ireland.
Peter has walked in The Mourne Mountains and the Macgillycuddy's Reeks in Ireland, Snowdonia in Wales and The Lake District in England.
Holder of the Rescue Emergency Care First Aid Certificate Level 2
Certified Geo Ambassador with Mourne, Cooley, Gullion Geotourism
OCN Level 2 Tour Guide